The ACCORDION Webinar Series continues!
Started from Thursday March 11th 2021, the consortium of the H2020 ACCORDION Project has been organizing a series of monthly Webinars focused on Cloud/Edge related aspects. The speakers of the webinars series are not limited to members of the  ACCORDION Project consortium. speeches and presentations by highly reputable personalities from academia and industry are being hosted during the Webinars Series.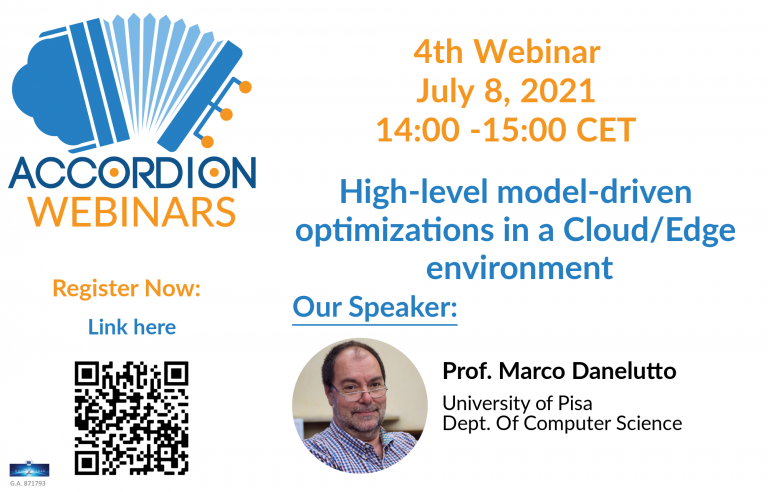 4th Webinar
High-level model-driven optimizations in a Cloud/Edge environment
Join us on July 8, 2021 at 14:00 CET on the 4th webinar of the ACCORDION Webinar Series were Prof. Marco Daneluto will discuss the high-level model-drive optimization methods in a Cloud environment.
Register Now
Prof. Marco Danelutto
Full professor at the Department of Computer Science of the University of Pisa.
Prof. Marco Danelutto is a full professor at the Univ. of Pisa, Dept. of Computer Science. His main research interests are in the field of structured parallel programming models for parallel and distributed architectures and include the design of parallel programming frameworks, tools to support parallel program development, autonomic management of non-functional features, software components, parallel design patterns and algorithmic skeletons. Danelutto actively participates in the design and development of FastFlow, a structured, highly efficient, parallel programming framework targeting heterogeneous multi/many-core architectures. He participated and participates in different international research projects, including EU funded projects (CoreGRID NoE as director of the Programming model Institute and GridCOMP (FP6), Paraphrase and REPARA (FP7), RePhrase (H2020), Admire and TextaRossa (EuroHPC-2019). He is the author of about than 200 papers in international refereed journals and conferences. He has been responsible and he is currently vice-responsible for the master's degree in Computer science and Networking at the University of Pisa, which forms professional figures experts in the software development and management for HPC.