The ACCORDION Webinar Series continues!
Started from Thursday March 11th 2021, the consortium of the H2020 ACCORDION Project has been organizing a series of monthly Webinars focused on Cloud/Edge related aspects. The speakers of the webinars series are not limited to members of the  ACCORDION Project consortium. speeches and presentations by highly reputable personalities from academia and industry are being hosted during the Webinars Series.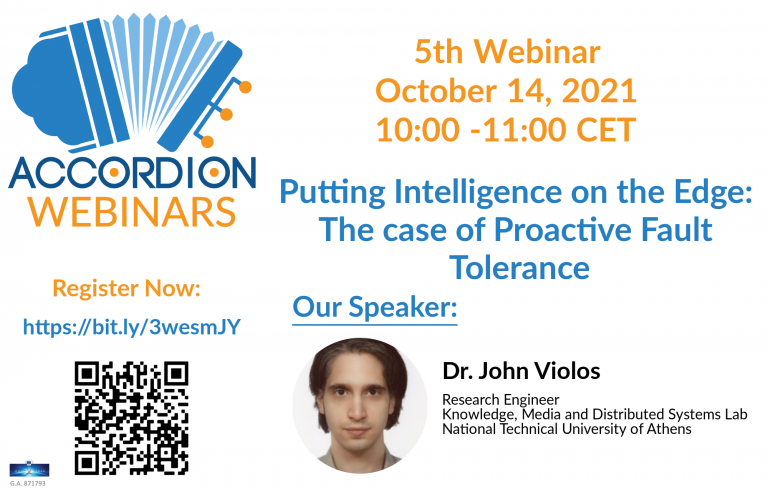 5th Webinar
Putting Intelligence on the Edge: The case of Proactive Fault Tolerance
Join us on October 14, 2021 at 10:00 CET on the 5th webinar of the ACCORDION Webinar Series were Dr. John Violos will present the Case of Proactive fault Tolerance
Register Now
We will give an overview on the topic of Fault Tolerance, the major types of Faults, the main Proactive and Reactive techniques, the concept of Robustness and the key evaluation metrics: Reliability, Availability, Safety, Maintainability.
Next, we will make an introduction on why Intelligent and Data Driven solutions constitute the state-of-the-art in Proactive Fault Tolerance. We will also describe the available sources of information in an Edge Computing environment, the methodology to take timely and proactively decisions in critical situations. In the end we will present the several Deep Learning models we built in the ACCORDION project
Dr. John Violos
Research Engineer
Knowledge, Media and Distributed Systems Lab
National Technical University of Athens
Dr. John Violos is a researcher in the lab distributed knowledge and media systems in the National Technical University of Athens. He has participated in four European co-funded research projects: Accordion, CloudPerfect, Basmati and Super as work package and task leader. His research interests include deep learning, machine learning and edge computing.